Rare coin dealer since 1954

COIN SUPPLIES


Jerry Babcock - Member #K-3162150
American Numismatic Association

Yes! It's CHRISTMAS everyday
at Jerry's Coin Shop

(Press Ctrl + D to bookmark this page)
Updated:
Live precious metal trading prices!

We HIGHLY recommend you read this about us
COIN SUPPLIES
We will be adding lots of Coin Supplies in the future.
Books, holders, 2x2's, Capital plastic, Currency holders,
magnifiers, Dansco albums, Whitman folders, Redbooks,
Worldbooks, check lists and more!
REMEMBER: NEVER CLEAN YOUR COINS! THAT LOWERS THE VALUE!

IMPORTANT: WE SHIP ONLY TO U. S. ADDRESSES!
---
Shipments to you:
Postage rates to U. S. addresses only:
$00.01 - $50.00 = $6.95
$50.01 - $100.00 = $7.95
$100.01 - $300.00 = $9.95
$300.01 - $500.00 = $12.95
$500.01 - and up = $14.95
These prices include U. S. Postal Insurance
and Delivery Confirmation

---


MAKE YOUR OWN SLABS WITH
CLEAR BLANK SLABS FOR YOUR COINS!
INCLUDES WHITE INERT COIN INSERT
Slab size: 2 1/8" x 2 7/8" similar to NGC slabs

CENT SIZE
with insert.
$1.25 each


NICKEL SIZE
with insert.
$1.25 each


DIME SIZE
with insert
$1.25 each


QUARTER SIZE
with insert
$1.25 each


HALF DOLLAR SIZE
with insert
$1.25 each


DOLLAR SIZE
with insert.
$1.25 each


SILVER EAGLE SIZE
with insert.
$1.25 each


SAC/SBA SIZE
with insert
$1.25 each


More to come!

More to come!
OFFICIAL A.N.A. GRADING BOOK
This book is brand new, although a few years old, and has all
current ANA grading standards listed WITH pictures. Book measures
5 1/4" x 7 3/4" and has 351 pages of information on grading your coins.
This book is a MUST for the serious coin collector whether you are
buying or selling coins. You can easily tell if your coin is a VF or
an XF and this has a lot to do with the value of your coins either
purchased or sold. In scarce coins that can be $100's of dollars.
We only have 2 of these available - so, hurry!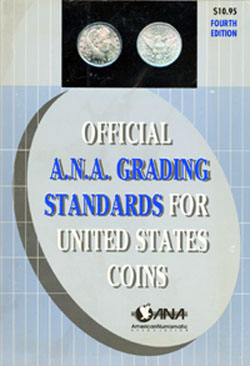 Yours for only $9.95
+ Postage and Insurance
E-mail for availability Click Here

---
After being absent from the coin business for 2-3 years (since 1954)
we are proud to be back and are strong buyers of quality
coins and collectibles. We will be listing coins gradually to our
site and e-mailing our old customers. We hope to have you
as a new customer soon. We have money to spend!
Sincerely, Jerry
We have customers waiting for your
rare coins, gold, silver and collectibles!
To visit our buy and sell ads please scroll down
and click on the proper category link!
Have something you want to sell?
We are buyers of all nice original material!
Have a question? Email us here Click Here
Ship any coins you wish to sell to:
Jerry's P. S., Inc.
P.O. Box 334
Bridgeport, MI 48722-0334
Please ship via U. S. Mail - Registered and Insured!
Checks mailed next business day on small shipments!
If you ship large quantities of different coins please allow an
extra day or two for us to inventory and price your merchandise.
COIN PAGE LINKS BY CATEGORY
Huge list of NACGSTM, PCI, NGC, PCGS, ANACS -
certified coins

PLUS

state quarter and presidential dollar first day covers
cents
-
nickels
-
dimes
-
state quarters
-
all other quarters
franklin half dollars
-
all other half dollars
silver dollars
-
ike dollars
-
gold coins
-
pre-1955 commemoratives
circulated rolls
-
modern commemoratives and sets
bullion gold and silver
-
currency
-
proof sets
-
mint sets
miscellaneous collectibles
-
canadian coins
-
world coins
gold and silver eagles
- coin supplies -
home page
Easy to learn method of winning at Casino Blackjack - CLICK HERE
Ever lose your car keys? Want them returned fast - CLICK HERE

Total NACGSTM coins certified as of


Start your NACGSTM portfolio now!
Have coins you want to get certified (slabbed)?
(U. S. & Canadian Coins Only)
ENTER HERE
TERMS: There is a 7-day 10% restocking fee on all returned coins.
We do not refund PayPal fees or shipping and handling charges.
Bullion is bought back at current buy prices on date received.
Copyright 2020 Jerry's P. S., Inc., P.O. Box 334, Bridgeport, MI 48722-0334