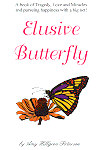 "Elusive Butterfly"
by Amy Hillgren Peterson
Tempers flare, teen angst, butterfly with attitude, seaside adventure,
prostitute's redemption and more fill the pages of "Elusive Butterfly."
A collection of autobiography, social issues essays, fiction and poetry,
this is the first book by its 29 year old author.
"A bold first effort by a young writer who promises to become important to
the American literary landscape in the 21st century." -- bookreporter review.
117 pages - ISBN 1-892161-24-9
$14.95
BUY IT NOW!